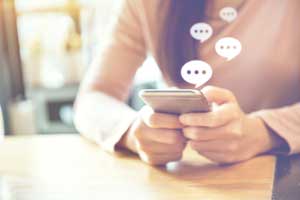 White label chat solutions offer a convenient and simple way to engage with prospects, answer their questions and educate them about your products. Along with providing support, you can use live chat for lead generation and to better qualify prospects for conversion.
1. Engage with Visitors at the Right Moment
Live chat allows you to connect with your visitors at just the right moment: When they want to learn more about your products. Because live chat delivers answers quickly (almost instantaneously), there's a much greater chance of converting a prospect into a lead.
Without live chat, visitors have to ask questions via email or your contact form. The longer it takes to reply, the greater the chance that the visitor will move on to one of your competitors.
Live chat allows you to answer questions and provide information in real-time – whether you're in the office or not. A timely response can make all the difference in converting a visitor into a lead.
2. Quick and Convenient for Customers
Live chat is a quick and convenient option for customers to get the answers and information they need without having to give up too much personal information.
Live chat is convenient for a number of reasons:
Offering real-time support – anytime of the day or night – allows visitors to engage with your brand on their own terms.
Unlike with phone agents, customers don't have to wait on hold to get a response.
Live chat greeters can assist multiple customers at once, virtually eliminating wait times.
In today's digital world, consumers expect speedy responses from brands. They don't want to wait hours for a response through email, especially when your competitors offer live chat.
3. Gather Feedback
Live chat gives you an opportunity to gain valuable insight into what your customers want and their online behaviors, including:
Chat history
Browsing history
Active time
Keywords searched
Previous visits
Analytic reports provide valuable data on your visitors that you can use to:
Improve the user experience on your website
Better serve customer needs
Improve your product or service
Determine where and when visitors are most active
These insights will allow you to improve other areas of your marketing strategies and further refine your operations to meet customer needs.
4. Better Qualify Leads
A dedicated chat team interacts with visitors in real-time and typically when they're in the early stages of the buying process. Chats agents can determine whether you're engaging with a serious lead by asking a few qualifying questions. This ensures that your sales team isn't wasting valuable time and effort on visitors who aren't quite ready to buy.
Serious leads can be funneled to your team, who will aim to convert each lead into a customer. Those who are not yet in the buying stage can be nurtured to, hopefully, convert to qualified leads.
5. Humanize Your Brand
Today's consumers want to connect with brands; they want to feel like they're doing business with humans and not corporations. It's important to begin nurturing trust and develop a positive relationship with visitors and leads right from initial point of contact.
Consumers expect brands to offer friendly, personable customer support. Having a dedicated chat team on your site can provide these friendly, helpful responses in a way that matches your brand's voice.
Failing to provide the human interaction that visitors expect can leave them feeling undervalued and unimportant.
6. Gather Specific Data About Visitors
Chatting in real-time gives your brand the opportunity to gather specific data about your visitors to improve your service and better target them. With live chat, you can assess a customer's needs right there on the spot and provide the best recommendations immediately.
When your live chat service also pairs with third-party services, like Google Analytics, you gain even more insight and data to better serve your prospects.
Live chat can be an effective lead generation tool, allowing you to gather important data and get to know your customers. If you haven't already, now is the perfect time to incorporate live chat into your website experience.